This Summer we bring back the popular and fast growing Sixes style of play, now offering high school AND youth divisions. Our league will model the World Lacrosse and PLL Sixes format as followed: 6 players on the field per team - 1 goalie & 5 players with short sticks only. Each half will begin with a faceoff, goalies clearing on goals. Two 20 minute running halves on a shortened field.
Summer Sixes is be open to all 3rd-12th graders. Put the best players together from your town or high school and compete all summer long. Build your own team to compete with friends or sign up as a Free Agent and be placed on a team! No need for specialized skillsets, just lacrosse players!
Each week will feature a 25 minute progression of stick work, small-sided drills, and box lacrosse concepts before splitting into teams and competing. Teams will be coached by 4 Leafs professional staff on a weekly basis.
Players looking to develop skill in a fast paced game each week will compete in a 6 week schedule. Matchups will change each week playing different teams.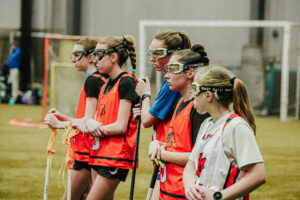 Who:
Boys and Girls Divisions
Divisions: (current school year)
3rd/4th Grade | 5th/6th Grade | 7th/8th Grade | Highschool
Dates & Location:
NH Sportsdome, Hooksett NH | Boys | June 14, 21, 28 | July 12, 19, 26 | Time for divisions:  U8 & U14 - 5-6pm | U10 ONLY - 7-8pm | U12 ONLY - 8-9pm
NH Sportsdome, Hooksett NH | Girls | Time for divisions: 6-7pm ALL AGES
Portland Sports Complex, Portland ME | Boys | June 14  U8, U10, U12 - 5-6pm, U14 & HS - 7-8pm | June 21 U8, U10, U12 - 6-7pm, U14 & HS - 7-8pm | June 28 U8, U10, U12 - 6-7pm, U14 & HS 7-8pm | July 12 U8, U10, U12 - 6-7pm, U14 & HS 7-8pm | July 19 U8, U10, U12 - 6-7pm, U14 & HS - 7-8pm | July 26 U8, U10, U12 - 5-6pm, U14 & HS 7-8PM
Portland Sports Complex, Portland ME | Girls | June 14, 6-7pm ALL AGES | June 20, 27 5-6pm ALL AGES | July 13, 20  3-4pm | July 26 6-7pm ALL AGES
Cost:
$110 Includes Pinnie